Pooja Name
Timing
Devotees Sponsorship2
Temple Charges (only applies to requisition from devotees to suit their convenience)
Prasadam items on Demand3
Sahasranama-Archana
Any
Yatha Shakthi1
$28
Thirumanjanam (Abishekam)
10 AM
Yatha Shakthi1
$58 for utsavars
Sri MahaLakshmi Pooja

Fridays 8 PM
Yatha Shakthi1
Sri Hanumaan Vada Maala

Saturday at 10 AM
Yatha Shakthi1
Srinivasa Kalyanotsavam

Saturday, Sunday @ 11 AM
Yatha Shakthi1
$111 Devotees Sponsoring Kalyanam are kindly requested to be in traditional attire. All women are requested to wear sarees and all men are requested to wear dhotis and Angavasthrams. Thank you for your support in adhering to temple guidelines.
Sri Santana GopalaKrishna Pooja
[Gold Vigraham VataPatra Sayi]

Sunday at 10 AM
Yatha Shakthi1 Blessing for having wonderful and devout children
Devotees Sponsoring Santana GopalaKrishna Pooja are kindly requested to be in traditional attire. All women are requested to wear sarees and all men are requested to wear dhotis and Angavasthrams. Thank you for your support in adhering to temple guidelines.
Sri Santana GopalaKrishna Homam - Starting Jan 2016

Last Sunday of the month - 10 AM
Yatha Shakthi1 Blessing for having wonderful and devout children
Devotees Sponsoring Santana GopalaKrishna Homam are kindly requested to be in traditional attire. All women are requested to wear sarees and all men are requested to wear dhotis and Angavasthrams. Thank you for your support in adhering to temple guidelines.
Satyanarayana Pooja

Full Moon days @ 6PM
Yatha Shakthi1
Weekends, Holidays, Full Moon - $125 Weekdays - $108
Anga Pradakshinam
Before Temple opens at 7:30 AM everyday. (Please call our priest Sri Sridharan at 845-364-9790 and f
Yatha Shakthi1
Car Pooja
Any time
Not-Applicable
$31 (Please bring 4 lemons for Car pooja)
Pooja / Religious Services
Temple Charges*
Week-days and Holidays
Priests Services and times

Bhagavat Gita Parayanam
Sundara Kanda Parayanam
Sita Rama Kalyanam (Details below)

4 Hours (including travel)
Yatha Shakthi1


Weekends: Saturdays and Sundays from 4 PM to 7 PM

Sudhashara Homam
Dhanvantri Homam

4 Hours (including travel)
Temple charges apply.


Weekends: Saturdays and Sundays from 4 PM to 7 PM. Temple charges apply.

Sri Satya Narayana Pooja

Weekends: $151
Weekdays: $125


4 Hours (including travel)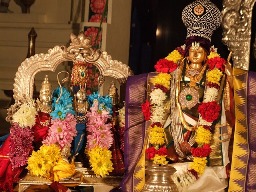 Sri Sita-Rama-Kalyanam: Priests will bring 44 Kg of Silver Sri Sita Rama Lakshamana Hanuman Vigrahas to your home, and do Sri Sita Rama Kalyanam (Estimated time: About 4 hours).
Please follow this link for information on Pooja Samigiri for Sita Rama Kalyanam
Pooja Charges & Donations: Yatha Shakthi - please donate whatever you can, if you can;
If you are interested in organizing poojas at your residence, please send us a note through the Contact Us page. Indicate your preferences including the Pooja and the dates on your request. We will respond to your note as quickly as possible.
Please Note:
1 Yatha Shakthi: "No Ticket system" - Donate whatever you can, if you can
2 Devotees are welcome to bring Flowers, Fruits and any other offerings for all Poojas
3 Prasadam items on Demand based on request from Devotees: $45 per item for 25 people (minimum order) and additional $45 per item for each multiple of 25 people
---
*** Devotees Sponsoring Poojas are kindly requested to be in traditional attire. All women are requested to wear sarees and all men are requested to wear dhotis & angavastrams. Thank you for your support in adhering to temple guidelines..
Donation
Suggested Amount
Notes

Flowers and Tulsi (for offering to deities)

$58 per day
$450 per week

Online Requisition for Flower and Tulsi Offering Sponsorship - Click here

$108 per day

Donate $108 or any amount of your choice or groceries like Rice, moong-dhal, vegetables, Canola oil, Sugar, etc.. towards this sacred Anna-dhAnam project. You can choose any number of days to do this Anna-dhAnam, Holy days or special days that marks the birthday or anniversary in your family. Click here to submit Annadanam Request Online through our website
Please note: that all donations made to Sri Ranganatha Temple are tax deductible. We want to Thank you for your continued patronage. May lord Sri Ranganatha's blessings be with you always.
---
Additional Notes:
1. Devotees may give any Sambhavana and yAtha Sakthi to Priests, but certainly NOT on demand.

2. We encourage all devotees to pay using check or credit cards. To streamline accounting and to avail tax-benefits, please obtain temple receipts for all payments made to temple as cash, checks or credit-cards

3. All food items and materials for preparing Prasadam are purchased by the Temple.