Sri Ranga Mandapam (Hall) Rental Policy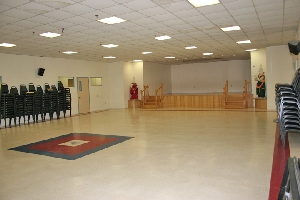 Picture of Temple Hall (Downstairs)
The Temple hall, called the Sri Ranga Mandapam, located downstairs in the temple is approximately about 6000 square feet in area. The hall can seat 300 people. The hall comes with modern audio system for music concerts only for an additional charge subject to availability of qualified operator. Only temple nominated persons are allowed to operate the audio system. At least two weeks notice is required to have a qualified person available for operating the audio system, but there is no assurance that a qualified person will be available on a given day.
Please note, the audio system is NOT available for private functions and poojas.
No cooking facility is available, however, food may be reheated for serving. We request that the policy regarding food distribution stated below is followed.
1.

Permitted, and not-permitted uses:

The use of the hall is classified into three categories, namely, (i) Religious use, (ii) Family use, and (iii) Social Use. Permitted and not-permitted uses for the hall under each of these categories are outlined below.
Category
Permitted and not permitted uses
Religious

Poojas/bhajans upon Sriman Narayana, His consorts, incarnations, and Sri Vaishnava Acharya Guru Parambara are permitted.
Conferences on religion are permitted, however, conferences promoting religious practices/philosophies other than Sri Vaishnavam/Sri Visihtadvaitam are not permitted.
Religious discourses on topics such as Ramayana, Mahabharatha, Bhagavatham, Vishnu Puranam, etc. are permitted.
Discourses on philosophical topics such as Srimad Bhagavath Geetha are permitted. However, interpretations promoting philosophies contrary to Sri Visihtadvaitam are not permitted.
Religious classes will be conducted only under the auspices of the Temple.
Auspicious religious ceremonies such as Upakarma will be conducted by the temple.

Family

Family functions such as marriage, upanayanam, Seemandham, birthday celebrations are permitted. Policies described elsewhere not withstanding, Hindu religious practices that are integral part of these functions are permitted, except food articles. Food articles must follow the guidelines described under section 2 below.
Rituals such as Hiranya srardham and Tila Tarpanam may be performed. But, rituals relating to last rites (immediately after death) are not permitted.

Social

Music/dance recitals that are generally consistent with the temple principle are permitted.
Secular educational classes such as language classes, financial planning, etc. offered as a service to the community are permitted.
2. Food Distribution:
| | |
| --- | --- |
| 2.1 | The kitchen located adjacent to the hall is used for preparing prasadam by temple priests. Renters are not permitted to cook in the premises. Facility will be provided for reheating cooked food items. |
| 2.2 | Only vegetarian food is allowed. Meat, poultry, or seafood of any kind or food items prepared with meat, poultry, and seafood, are not permitted. Renters are requested to refrain from bringing foods containing onions and garlic. |
| 2.3 | Alcoholic beverage of any kind, including beer and wine, is not permitted. |
| 2.4 | No tobacco products are permitted anywhere in the temple property. |
3. Sale of articles:
| | |
| --- | --- |
| 3.1 | Articles such as books, CDs, cassette tapes, metal icons, photographs, food items, saris, jewelry, etc. that are compatible with Sri Vaishnavam/Sri Visishtadvaita Philosophy, and the Mission of the Temple are permitted for sale in the hall during the period the hall is rented. |
| 3.2 | The articles must be displayed in a manner that does not interfere with any articles that the temple may be displaying and/or selling. |
| 3.3 | Donation of $100 per display table must be paid to the temple. |
4. Rental Schedule:
| Hall Reservation | Amount |
| --- | --- |
| Hall Rental - Week day | $50 |
| Hall Rental - Week end | $75 |
| Hall Rental - Dance Class | $50 |
The hall may be rented on hourly basis at $75 per hour during weekend and holidays ($50 per hour for weekdays), or on a daily basis for $600 per day during weekend and holidays, ($500 per day on weekdays) for 9 a.m. to 8 p.m. All rents must be paid in advance. In case of cancellation, full refund will be given only with two-week advance notice. In addition to the rent, a security deposit of $250 is required. The security deposit will be returned net of any expenses Temple incurs towards, cleaning, replacing or repairing broken articles, etc. Before using the hall all renters must sign the attached rental agreement and provide proof of liability insurance coverage. The small rooms may be rented for $20 per hour. All rental fees are subject to change at any time.
For Hall reservations, please contact the temple front desk @ (845)364-9790 or fill out the form below.